Pharmaceutical IBC Bin, Mixing Bin, IBC Bin Manufacturer – Bin and Drum for Pharmaceutical – Round & Squire shape
pharmaceutical bins are specially designed products used for storage, transfer, mixing of raw materials for pharmaceutical, chemical, agricultural, food processing industries, etc. These pharmaceutical bins are made in various capacities from 400 liters to 2000liters (other capacity also can custom design for you) ,Pharmaceutical or food processing industries, our bins and drums are durable, hygienic and easy to clean; for any material handling tasks.
Pharma Bin is most commonly used in the solid powder blending equipment sector, where it plays a key role in high homogeneous blending and high material loading rate. CSB Series Pharma Bin significantly simplifies loading, combining, unloading, and washing, and it effectively avoids dust and cross contamination by frequent material change-over.
Mixing Bin is most commonly used for solid powder blending equipment area, it plays an important role in high homogeneous blending, high material loading rate,  New Series mixing bin effectively prevents dust and cross contamination by repeatedly material change-over. New Series mixing bins fitted with BCV Series Post Bin Blenders meet the mixing needs of big batches and a wide range of drugs. It is a suitable bin for Post Bin Blender, has a discharging butterfly valve to prevent inappropriate operation, and completely complies with FDA / cGMP specifications.
We provide all types of transport and storage bins, including the SBST Series IBC Bin, which is made of austenitic stainless steel and is easy to clean and maintain due to its lack of dead angles and concave-convex face. It satisfies all FDA/cGMP requirements' IBC bins are used to storage and transfer raw materials. These bins were specifically designed to meet the needs of the medicinal, chemical, cosmetic, health and food industries.
Bin is mainly used in the pharmaceutical, health, food, chemical, industry. SBL bin basically use for lifting. Which help to charging and discharging the materials efficiently. It also uses in storage and transfer. It is the most desired transferring equipment in the pharmaceutical industry. They are made of Austenitic stainless steel. All angles are cambered there are no dead angles. They have non-concave/non-convex faces and no screws on the surface. It also customizes as per your requirements.
Tablet Bin is constructed and built-in compliance with the most extensive cGMP for tablet containment. It stores the tablet after the tablet pressing process is completed and is used for tablet discharge in other processes. SBT-Tablet Bins are available in a variety of shapes and sizes, including cube, rectangular, and wheels for convenient mobility. The unique composition strengthens the product's discharge.
One unique difference is that the Round pharmaceutical bin is round in shape, whereas the squared one has a square-shape.
Square pharmaceutical bin has been found useful in handling both granules and powder products.
On the other hand, the round pharmaceutical bin is being used to handle oral doses.
The square pharmaceutical bin is ideal for mixing, transporting from one place to the other, and storage of these products.
The round pharmaceutical bin is a shifting container commonly used in producing a flow of solid dosage.
Used for mixing granules and powder products
Transportation of the materials from one place to another is made possible through them
Used for storing and handling heavy chemicals and toxic materials.
Also be useful in loading and transferring granules from high shear mixers.
Prevent cross-contamination of products.
Hygienic and easy to clean
Square IBC Bin has a fine polished finish with adequate hopper angle for complete discharge and easy cleaning
Pharma Bin design reduces pollution and contamination
Pharma Bin is precisely machined to reduce pollution and dust.
It is easy to maintain high hygiene standards of bins
General Description:
Product Bins represent a standard solution for handling and storing pharmaceutical tablets. They are designed and manufactured for handling through their own trolley, offering the advantage of trolley release at floor when the container is lifted to be placed on process machines like tablet presses, mixer, blender,  filling machines etc.
Rounded edges and corners to avoid product retention points.
Completely smooth surfaces suitable for pharmaceutical products.
Working capacity for good mixing min. 30% – max. 70%.
AISI 316 stainless steel.
Discharge butterfly valve with manual opening/closing.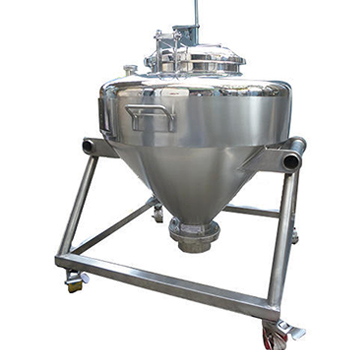 Made for high grade ss steel (Designed hygienically utilizes stainless steel 316L or SS 304)
It can be use pharmaceutical and food industries
Bin has a fine polished finish with adequate hopper angle for complete discharge and easy cleaning
Suitable to mix raw materials in the powder form
Internal surface roughness is not greater than 0.4mm
Perfectly compatible with Shree Bhagwati handling system
Special design for different size of Bins can fit in one Bin Mixer System.
Variety models can be chosen fixed type or lifting type
Inner tank mirror-polished RA<0.2µm.
outside of tank drawback polished RA<0.28µm.
Welding part RA<0.5µm.
Specifications:
| | |
| --- | --- |
| Model | Capacities (lit) |
| BIN 25 | 25 |
| BIN50 | 50 |
| BIN100 | 100 |
| BIN150 | 150 |
| BIN250 | 250 |
| BIN500 | 500 |
| BIN800 | 800 |
| BIN1000 | 1000 |
| BIN1500 | 1500 |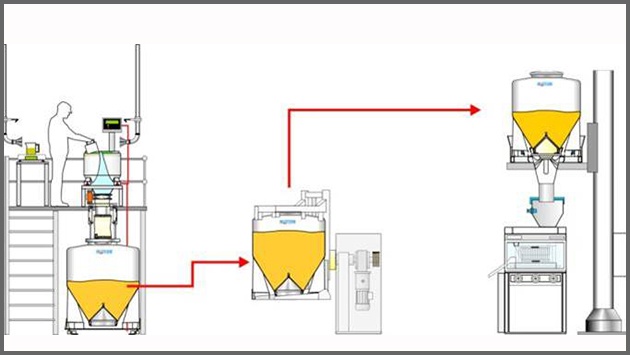 difference between Square and Round Pharmaceutical Bin?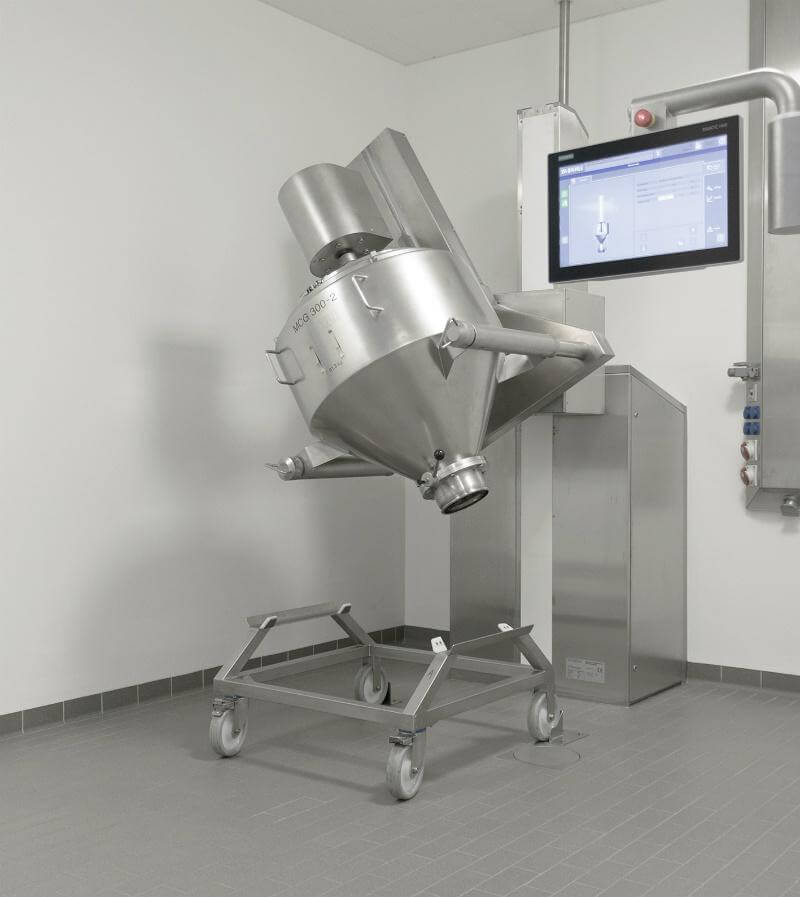 Pharmaceutical Bin, Mixing Bin, IBC Bin Manufacturer – Pharmaceutical bins are usually classified under the IBC (intermediate Bulk Containers) group of equipment
Why Global Company Trust Shree Bhagwati
Shree Bhagwati is a leading global Pharmaceutical Equipment Manufacturer And Supplier for ONE STOP SOLUTION. Trustworthy integrated process solutions, Shree Bhagwati especially focuses on solid dosage forms in India for more than 25 years, Shree Bhagwati  is your best worldwide partner to companies in the pharmaceutical, food, chemicals, and cosmetics industries. we manufacture machinery in accordance with international standards, such as GMP, cGMP, and US FDA.
Shree Bhagwati  technical team members improve complete project services (also called one-stop solution services) from consulting to design. We are completely meet your process and needs for resolving all your problems.
Pharmaceutical pharma stainless steel ibc tote bin tank